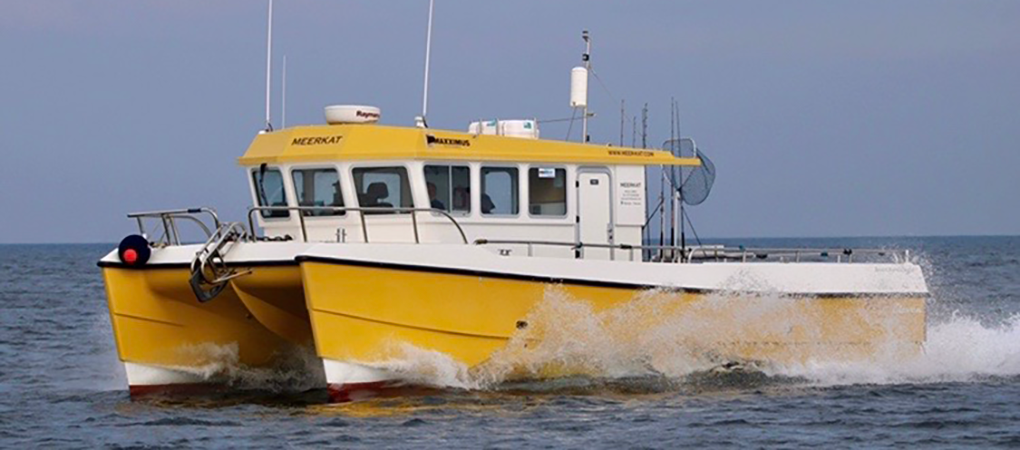 Meerkat Charters, Weymouth
Meerkat Charters, Weymouth
The Meerkat is an exceptionally stable vessel both at anchor and on the drift. At 11 metres x 4.5 metres she has plenty of room for all on-board. Powered by twin 200hp turbo charged diesels she will cruise very comfortably at 15 knots and will achieve 23 knots at sprint speed.
Safe and Stable
Safety and Stability is the key to a successful days sea fishing, if you feel safe, secure and comfortable you are far more likely to enjoy your days deeps sea fishing, if you are looking for a good day at sea catching some great sea fish then you have come to the right place!
As a fishing platform, she is excellent, she makes very little fuss in the water due to her very fine entry bows and because she makes little fuss she is also a very dry boat even at speed in choppy waters!
The secret to her stability is due to her being a displacement boat instead of an ordinary planning boat, this means she cuts through the waves instead of crashing over them.
Meerkat Trip Information
Duration: 2hr, 3hr, 4hr, 8hr, 9hr, 12hr, Multiple Days
Tackle Available: Yes
Bait Available: Yes
Trip Types: Inshore and Offshore reefs, Inshore and offshore wrecks, Inshore sand banks, Shark fishing, 4hr Beginner trips, Evening trips, Sight seeing along the Jurassic coast.
For prices and more information please look at " Trip types/ Prices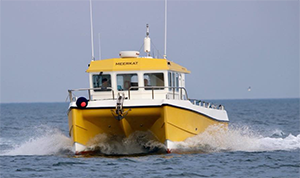 If you have any questions please feel free to ask we are always happy to help and there's never such thing as a silly questions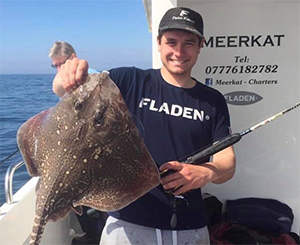 About the Skipper
Here is a little about my history and how I have come to be the skipper/ Owner of Meerkat.
I am a born and bred local lad, I started angling at three years old with my dad down on the piers in Weymouth catching a variety of small species, from these first initial adventures with a rod I very quickly became hooked.
My first trips boat angling were again with my dad on his boat Blue Dart which was based in Weymouth. We used to fish the many reef and bank marks in and round the Weymouth and Portland area. This began my interest in boats and boating and throughout the years angling and boating developed from an initial hobby to a total passion.
I have been an active member of Weymouth Angling Society from a junior taking part in their monthly shore and boat competitions for many years which has allowed me to hone and develop my skills in all aspects of angling.
I was very fortunate in July 2014 to be selected to represent England youth in the Shore Home Internationals held in Montrose, Scotland where we were honoured to win Team Gold.
Also in September 2014 I was again selected to represent England Youth this time from the boat and this time in the World Championships held in Weymouth. We were once again honoured to claim Bronze in this event behind a very strong Italian and French Teams.
2015 saw me once again represent my country in the World Youth Shore Championships in Holland, Where we managed to take Silver behind the home team.
I first got into the world of Charter boat angling in 2011 when I was given the opportunity by Lyle Stantiford, skipper of Supanova in Weymouth to lend a hand and pass on some of my knowledge to his customers at weekends and during school holidays. I very quickly realised that this was my dream job and hopefully one day would become a reality.
I continued with Lyle full time on leaving school in 2013, this was when I really began the learning process of how to be a successful skipper. All the time I was asking questions and noting things down, Marks, Tides, where to be and when etc and also at the same time clocking up my sea time and experience to qualify to sit my yachtmaster offshore practical exam.
In the early part of 2015 I successfully passed my Yachtmaster after 11 hours at sea and a rigorous continued assessment of my ability, seamanship and safety at sea.
Whether you are a seasoned angler looking for a 4/5 day channel islands trip, a specimen hunter looking for that new PB or somebody who has never held a rod before and just want a fun day out with friends and family then look no further. I am happy to pass on my knowledge and also learn from you, come and enjoy a day with the future of Weymouth's Charter fleet and feed off my enthusiasm for the job and sport.
We are now in 2020 and I have been lucky enough to purchase Meerkat from Lyle for the future, we now enter my 6th year of skippering and once again we are looking forward to it.
---